HOUSE BRAND

Solid Machine Tools
The Solid Machine Tools brand brings to the table BV Machinery's 45 years of experience and our long-standing partnership with our manufacturers. We sell a variety of different machine tools under the following brands:
SolidTurn:

 Conventional lathe

CNC SolidTurn:

CNC lathe hybrid

SolidSaw:

Saw

SolidDrill:

Drill and drill press

SolidIW:

Ironworker

SolidMill: Milling machine
We've worked hard with our partners to offer a range of heavy duty, reliable machines that give you the best value for your money.
OTHER DISTRIBUTED BRANDS

Manford
The Manford group owns five companies in Taiwan, including Manford, Winford, Avemax, Automac Smartauto and Manford Guarding Co. Ltd.
Our product range is wide. We produce 5 axis machining centers, Double column, Vertical machining centers, Horizontal machining centers, Tapping center, CNC lathe.
Kiheung 
Since founded in 1968 KiHEUNG has become the one of the most advanced and leading machine tool manufactures.
KiHEUNG specialized in manufacturing medium-big size CNC bed type milling machine, Travelling column boring and milling center, Fixed bed travelling column machine, Double column machining center, Simultaneous five axis machining center, Double column five axis and vertical turning machine, is determined to enhance the quality by respecting the customer`s requirements with the philosophy of "FULL SATISFACTION TO THE CUSTOMER AND ENDLESS SERVICE TO THE CUSTOMER" through the spirit of mutual co-operation, KiHEUNG is able to ensure the continuous distribution with high quality machine tool designed to satisfy customer`s requirements all over the world.

Takisawa Machine Tools (Japan)
A passionate, energetic spirit has characterized TAKISAWA since its 1922 establishment as a machine tool manufacturer. Drawing upon a vast wealth of experience and a tradition of excellence that goes 90 years, we today offer a variety of innovative and technologically advanced products.
These include conventional lathes, CNC machine tools such as CNC lathes, machining centers, drill centers and sophisticated FA cells and systems.
Machine tools production, long our specialty, supports all other product developments. Although our product line continually changes in keeping with the times, our energetic spirit remains ever-strong, ever open to the future. Always abreast of the needs of our customers, we stand ready to meet every challenge in ensuring the complete satisfaction of those we serve.

Taiwan Takisawa
In the machine tool line, there are small and medium CNC lathes and non­CNC high speed precision lathes. Taiwan Takisawa is also and OEM partner for all types of lathes that it builds for Japanese companies.
Taiwan Takisawa has established its technical capabilities through cooperation with Takisawa Machinery Company of Japan. This joint effort has laid a solid foundation for the highly skilled professionals as Taiwan Takisawa, who have accumulated years of experience, and can apply world-class manufacturing expertise to achieve the superior product quality that has been acclaimed in the global market.

Ermaksan
Ermaksan continues to operate with the 21st century's innovative perspective, with the goal of becoming one of the world's leading producers in the fields of technology and R&D.
Ermaksan is a leading industrial organization that shapes the sheet metal processing machines sector with its strong R&D, that produces high-quality machines with high technology with more than its 800 qualified staff in its modern production facilities extending to an area of 96.000 m2. In a 10.000 m2 field, it continues to carry out future oriented R&D works such as Fiber laser technologies, new machine models; Industry 4.0 applications and 3D printer (additive manufacturing) machine. The machines produced by Ermaksan now operate in 110 countries.
Continuously following the new trends and customer expectations, and designing and producing machines with advanced technology, high added value, that are environment friendly and energy saving, Ermaksan takes firm steps forward on the way of sustainable growth by using resources effectively and efficiently.

Femco 
FEMCO designs, manufactures, sells, distributes a full line of CNC machine tools including CNC Lathes, CNC Vertical Lathes, CNC Horizontal Boring Mills, CNC Wheel Turning Machines, and CNC Housing Type Plano Mills.

You Ji 
With over 40 years experience, You Ji has obtained customers' support in design and quality of machine. There are many machines to meet customers' different needs. Table diameter from Ø200 to Ø8000mm. You Ji is the first machine manufacturer to have passed CE and EMC and to have begun sales in the European market and is the biggest vertical lathe and floor borer manufacturer in Taiwan. The cooperation between You Ji and other advanced machine manufacturers helps to upgrade the quality of You Ji products and provide customers the best and fastest service in the business.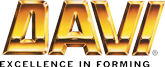 DAVI 
Born in Italy in 1966, DAVI is the world largest manufacturer of heavy-duty plate roll, heavy duty angle roll, high productivity lines and customized rolling machines. Its leadership is evident with regards to sales volume, employees, production, assets, and rating. DAVI also owns the highest number of patents in the industry. DAVI history is all based on learning and striving to achieve the best skills in the bending process. Nowadays, DAVI machines are designed through the most advanced 3D CAD and always tested with FEM analysis in order to guarantee strength and sturdiness. A great care is also placed on design, that is constantly improved and applied to the production of plate and angle rolls. DAVI Research & Development Division lives on the catchphrase 'engineering everyday challenges' and is always ready to design custom made solutions and meet customers' needs.

Everising 
World's 3rd Metal band sawing machine brand, EVERISING has been specializing in mid to large size band saws and circular saws since 1982. Our R&D innovations have yielded constant break-through over the years. With two factories in Taichung, Taiwan, and another in Kunshan, China, yearly output is in excess of 2000 units. 
Throughout the years the priorities of "high quality, innovation and leading technology" have guided the company through sustained growth. It has always been the policy of Everising to "Let the customer lead the way."

OKK 
Reliability and Precision
Since 1915 in Japan, customers across the globe have praised the reliability and precision of OKK horizontal and vertical machine tools. It is our philosophy to assure a 100% quality control by producing all key components in house, so for our machine tools, all key components are original OKK parts. Among others, this includes all spindles, mechanical gears, and our precision square slide guide ways as well as special controller features.
OKK increases the options for manufacturers needing 5-axis machining centers, horizontal machining centers, and vertical machining centers with high rigidity for heavy-duty cutting. Their HMCs have large workpiece capacity in a small footprint.

Midwest Automation 
Midwest Automation is a family-owned U.S. manufacturing company located in Minneapolis, Minnesota. For over 60 years, Midwest Automation has manufactured industrial machinery in the heartland of the USA for the woodworking, composite panel, and metalworking industries. 
If you're looking for an industrial machinery manufacturer with real application knowledge, we'd like to talk to you. Our extensive application knowledge, coupled with creative machine design, allows us to provide unique and reliable solutions that improve your manufacturing processes, while also supported by domestic parts and service.